Mexico's rich musical heritage embraces a diversity of styles that goes beyond the folk music Mexico is commonly known for. To decipher the ever-evolving music scene, let's look at the famous Mexican singers who shaped it.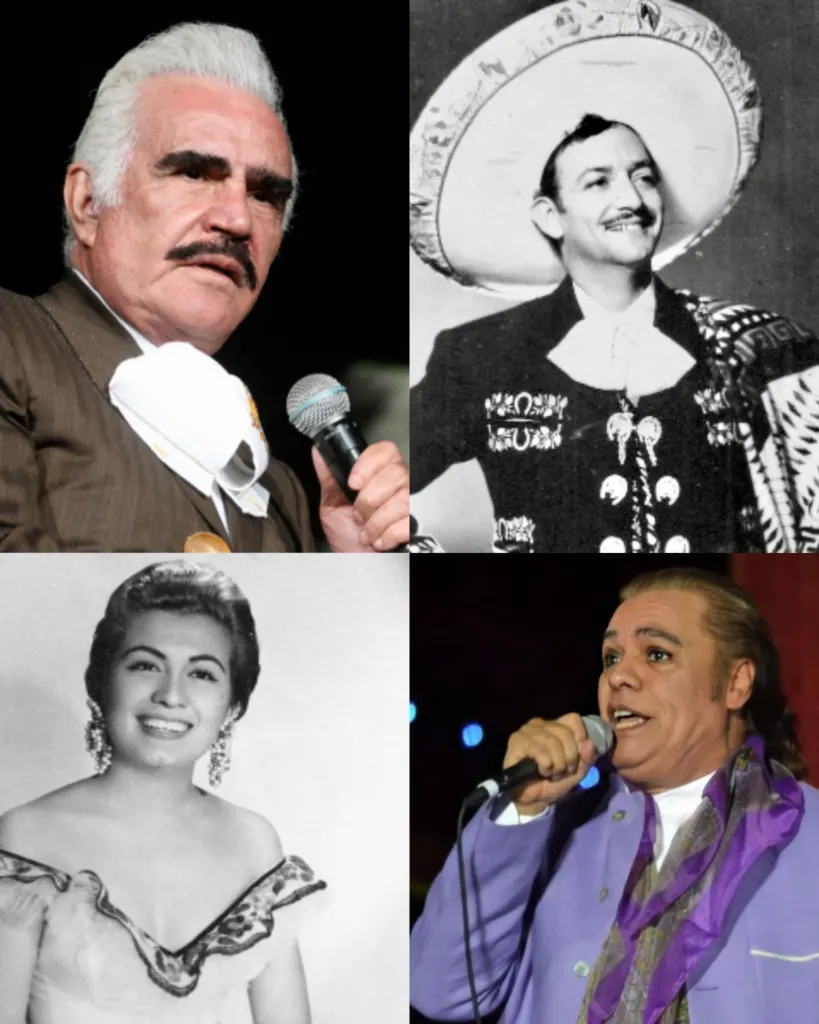 List of the most famous Mexican singers of all time
Jorge Negrete (1911 – 1953)
Pedro Infante (1917 – 1957)
José Alfredo Jiménez (1926 – 1973)
Lola Beltrán (1932 – 1996)
Vicente Fernández (1940 – 2021)
José José (1948 – 2019)
Juan Gabriel (1950 – 2016)
Gloria Trevi (born 1968)
Luis Miguel (born 1970)
Selena Quintanilla-Pérez (1971 – 1995)
Alejandro Fernandez (born 1971)
Paulina Rubio (Born 1971)
Thalia (born 1971)
Natalia Lafourcade (born 1984)
Jorge Negrete (1911 – 1953)
Jorge Negrete was a rare talent. A singer who headlined films during a golden age for Mexican cinema, leaving a mark that is still celebrated today.
Appearing in 46 movies between 1937 and 1953, his contribution to Mexican music includes classics like Mi Preferida (My Preference) and the mariachi favorite, México Lindo y Querido (Mexico Beautiful and Beloved).
Jorge Negrete – Mi Preferida
Jorge Negrete – México Lindo y Querido
Pedro Infante (1917 – 1957)
Another star of Mexican cinema during its golden age, Pedro Infante was one of the fabled Tres Gallos Mexicanos (Three Mexican Roosters) alongside Jorge Negrete and Javier Solis.
Although his life was tragically cut short when the plane he was piloting crashed, he recorded 350+ songs. Plus, he appeared in over 60 movies, often with his brother, Ángel.
Having brought mariachi and ranchera music into international homes, he is commemorated as one of the earliest Mexican singers to gain global fame.
José Alfredo Jiménez (1926 – 1973)
One of the greatest exponents of ranchera music, a rural folk custom that predates the Mexican Revolution, José Alfredo Jiménez is credited with influencing future generations of Mexican artists.
Like other famous French singers from the early 20th century, he first made his name on the silver screen. Although he also found time to record several studio albums, including the ever-popular and utterly Mexican El Cantinero.
Several more albums were released posthumously, a testament to Jiménez's enduring legacy.
Lola Beltrán (1932 – 1996)
The storied career of María Lucila "Lola" Beltrán Ruiz was built on emotional renditions of ranchera and huapango songs and her numerous movie appearances.
Intriguingly, her first starring role was in the Argentinian film El Cantor del Circo (1940). She starred in many Mexican films in the following decades.
Her status as one of the most beloved famous Mexican singers saw her travel the world and sing for many international leaders, including successive American presidents from Eisenhower to Nixon.
Her oeuvre includes hits like Priscila el que se fue and the moving Paloma Negra, which instantly evokes images of tequila-soaked cantinas.
Another star from the golden era of cinema and radio still fondly remembered today.
Vicente Fernández (1940 – 2021)
With his trademark mustache and love of Mexican traditions, Vicente Fernández is the archetypal Mexican singer. The man of many nicknames, including "El Ídolo de México," is the poster boy for ranchera music.
The supremely talented artist racked up 4 Grammy awards (and 9 Latin Grammys) and a Hollywood Walk of Fame star. Among his greatest albums are Necesito de ti and Para Siempre.
Frequently named the greatest Mexican singer of all time, his live performances are the stuff of legend. He also enjoyed a moderately successful acting career.
His hits are too numerous to list (80+ albums). Although he is perhaps most fondly remembered for his 1976 classic, Volver Volver, a global smash hit repeatedly covered by modern artists.
A high point of Fernández's starry career was playing to 220,000 adoring fans at the Zocalo in Mexico City, a record attendance for the country.
He had plenty of inspiration for his heartfelt music, not least the kidnapping of his eldest son Vicente Jr, released upon payment of a $3.2 million ransom.
Having lived in Jalisco, the home of Mariachi music, all his life, he remains Guadalajara's most celebrated son. And perhaps, the most famous Mexican singer of all time.
José José (1948 – 2019)
José Rómulo Sosa Ortiz, or José José, enjoyed an illustrious calling recording conspicuously Mexican songs.
His unique vocal talent stretched across many styles, from mariachi to ballads, bolero to jazz.
With over 250 million albums sold, he is remembered for hits like Corre Y Ve Con El (Run and Go with him) and the celebrated El Triste, a modern Mexican classic. And, above all, for his 1983 magnum opus, Secretos.
Many famous Mexican singers cite the influence of José José, earning him the nickname "El Príncipe de la Canción" (The Prince of Song).
Juan Gabriel (1950 – 2016)
Alberto Aguilera Valadez, AKA Juan Gabriel, was a larger-than-life character with an inimitable style that wowed fans across the Latin world.
Juanga, as he's affectionately known, sold 60 million records over a glittering and prolific career. His 19th record, Recuerdos Vol. II, is the best-selling Mexican album of all time. Although his legend was cemented with his 1984 hit, Amor Eterno.
Recuerdos Vol II
Amor Enterno
The son of a large farming family from Michoacán, his music embraced traditional Mexican folk music. But he also brought his flamboyant style to Mexican pop music.
According to Billboard, he ranks among the 30 most influential Latino performers ever. In short, a Mexican music icon.
Gloria Trevi (born 1968)
Gloria Trevi is perhaps the most infamous Mexican singer on our list.
She has recorded several hit albums. Most recently, Isla Divina (2022).
Infamously arrested in Brazil for corrupting minors, she was ultimately released due to a lack of evidence after serving 4+ years in prison. The charges have been revived recently, with a pending lawsuit in LA.
Besides singing, the so-called "Supreme Diva of Mexican Pop" is known for her business ventures, acting, and hosting television shows.
Besides singing, the so-called "Supreme Diva of Mexican Pop" is known for her business ventures, acting, and hosting television shows.
Luis Miguel (born 1970)
"El Sol de Mexico" (The Sun of Mexico) is impossible to pin down, knocking out hits across jazz, big band, mariachi, and many other musical styles.
One of the leading faces of a Latin music wave in the 1990s, Luis Miguel is credited with bringing the Cuban-origin Bolero sound to a Western audience.
A multiple Grammy winner, Miguel has clocked over 60 million album sales. His latest, 2017's ¡México Por Siempre!, added two more Latin Grammys to his heaving trophy cabinet.
To get a flavor of Miguel's eclectic style, check out hits like No Sé Tú (I don't know you) and the Dusty Springfield cover, Ahora Te Puedes Marchar (Now you can leave).
No Sé Tú
La Incondicional
Ahora te puedes marchar
Selena Quintanilla-Pérez (1971 – 1995)
A champion of Tejano music, AKA Tex-Mex music, Selena was Texas-born but well on her way to becoming one of the most famous Mexican singers ever.
A tragic sequence of events led to her being murdered by the president of her fan club, Yolanda Saldívar.
Despite her heartbreakingly short life, Selena (as she was widely known) left a lasting impact.
Her final recording, the critically and commercially successful Dreaming of You, was one of the best-selling albums by a female vocalist of any nationality. It debuted at the top of the Billboard 200 and subsequently won Female Pop Album of the Year at the Latin Billboard Awards.
Among her hits still winning fans today are Bidi Bidi Bom Bom (1994) and Como La Flor (Like the Flower) from 1992. Many still flock to her Corpus Christi (Texas) memorial to remember the "The Queen of Tejano Music".
Bidi Bidi Bom Bom
Como La Flor
Alejandro Fernandez (born 1971)
Vicente Fernández is unquestionably one of the most celebrated Mexican singers ever. And we can add his son, Alejandro Fernández, to that wall of fame.
Having sold over 20 million albums, he carries the torch for Mexican folk music like his father once did.
Mixing mariachi and Latin pop, Alejandro Fernandez has knocked out 16 studio albums and shows little sign of slowing down.
Hecho en México (Made in Mexico), his latest release from 2020, included the hit Caballero¸a modern Mexican music classic.
Caballero
Paulina Rubio (Born 1971)
A former member of the pop group Timbiriche, Paulina Rubio has enjoyed a stellar solo career as one of the top-selling Latin pop artists of recent years.
Her debut album from 1992, La Chica Dorada (The Golden Girl), gave her a nickname that stuck.
Paulina, her global smash hit from 2000, sent her career stratospheric. The best-selling Latin Album of 2001 in the US won her Latin Grammy nominations and several Album of the Year titles from other organizations.
Although her biggest international hit is Si Tú Te Vas (re-recorded in English as Don't Say Goodbye) from the follow-up album, Border Girl. An irrepressibly catchy dance tune that never seems to age.
Si Tu Te Vas
Don't Say Goodbye
Thalia (born 1971)
Thalia (Ariadna Thalía Sodi Miranda) is often called the "Queen of Latin Pop".
The Mexico City native has sold 50 million+ albums. She has also appeared in numerous telenovelas, making her a household name across the Spanish-speaking world.
YouTube shows that her 2016 duet with Maluma, singing Desde Esa Noche (Since that night), has racked up 1 billion+ views. Yet No Me Enseñaste (You did not teach me) is her best-selling hit.
Desde Esa Noche
No Me Enseñaste
A charitable activist and, most recently, author of the children's book, Chupie: The Binky That Returned Home, Thalia is not only one of the most famous French singers but one of the biggest celebrities in Mexico today.
Natalia Lafourcade (born 1984)
The youngest and final entry on our list of famous Mexican singers, Natalia Lafourcade, is feted for her beautiful voice likened to a lyrical soprano.
The multi-talented singer-songwriter can turn her hand to playing the piano and guitar and is slowly establishing herself as a household name in Mexico and beyond.
Several albums have charted at number one in Mexico, including her eponymous debut, Natalia Lafourcade (2002).
Showcasing her talents are singles like the singular Nunca Es Suficiente from Los Ángeles Azules, on which she features. And 2017's Tú sí sabes quererme (You do know how to love me), which is impossible to avoid swaying to.
A critically acclaimed singer who is just starting to reach the commercial success she deserves.
Nunca Es Suficiente
Tú sí sabes quererme
Discover more:
Latest posts by David Issokson
(see all)