It's not hard to draw up a list of famous Mexican people. In arts, music, sports, and politics, the country has produced many personalities known far beyond Mexico. Here are 20 of the biggest names from Mexico's past and present.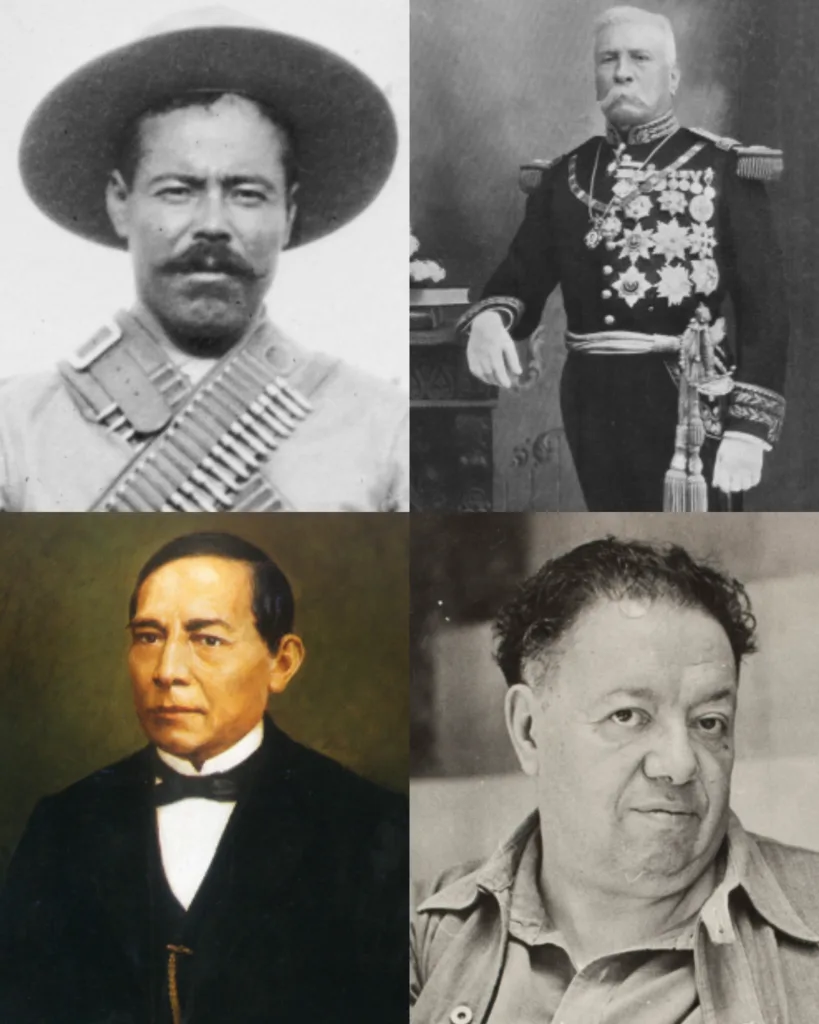 List of the most famous Mexican people in history
Benito Juarez
Porfirio Diaz
Francisco (Pancho) Villa
Diego Rivera
Frida Kahlo
Octavio Paz
Pedro Infante
Vicente Fernandez
Carlos Slim
Vicente Fox
Carlos Santana
Thalía
Joaquín Guzmán
Alfonso Cuarón
Guillermo del Toro
Salma Hayek
Lucero
Oscar de la Hoya
Gael García Bernal
Javier Hernandez "Chicharito"
Benito Juarez (1806-1872)
A lawyer turned statesman, Benito Juarez is remembered for his stabilizing presidency from 1858 to 1872
Guiding the victorious liberals through the War of the Reform (1858–1860) and the so-called French Intervention of 1862–67 earned Juarez supporters among the political elite.
Liberal reforms, including separation of church and state and land redistribution, earned him support from everyday Mexicans.
An enduring symbol of Mexican nationalism, Juarez has even been called "Benemerito de las Americas" (Meritorious Hero of the Americas). A far less contentious legacy than some of the other politicians on this list of famous Mexican people.
Porfirio Diaz (1830 – 1915)
The Seven-time president of Mexico, José de la Cruz Porfirio Díaz Mori, was a larger-than-life political figure credited with ushering Mexico into the industrial age.
His rule from 1876 to 1911 was known as Porfiriato and was a dictatorship in all but name. His rise to power was built upon a successful career in the military, serving as a general during notable conflicts of the 19th century.
Diaz's refusal to retire — and subsequent electoral fraud that saw him reelected in 1910 — was the spark of the Mexican Revolution. Diaz was forced into exile a year later, dying in Paris while the civil war engulfed Mexico.
Porfirio Diaz remains divisive today, variously lauded for his political achievements and maligned for sowing the seeds of civil war.
Francisco (Pancho) Villa (1878 – 1923)
Pancho Villa rose from poverty to become a leading general and revolutionary hero.
Playing a crucial role in the Mexican Revolution (1910-1920), he was often photographed on horseback, bandoliers slung over his chest like the archetypal resistance fighter.
But he was also a notorious outlaw on either side of the US-Mexican border, wanted for raids across the border and killing American citizens.
Ultimately, the guerrilla leader notorious for switching allegiances during a bloody and complicated civil war was defeated and finally assassinated (you can see the bullet-riddled car at the Francisco Villa Museum). Likely on orders from President Alvaro Obregón, another general of the Revolution who was also assassinated.
Debate rages about whether he should be viewed as a working-class icon or a violent bandit. One certainty: Pancho Villa's complicated legacy ensures he remains among the most famous Mexican people of all time.
Diego Rivera (1886 – 1957)
Diego Rivera was a pioneering Mexican muralist and cubist painter famed for his intricate frescoes exploring social and political themes.
Deeply engaged in revolutionary politics in his early life and later married to the already-iconic Frida Kahlo, Rivera's colorful life matched his art.
Among his most feted frescoes are vast works like Man at the Crossroads (1933) and Dream of a Sunday Afternoon in the Alameda Central (1947). Both showcase his unique style and anti-capitalist sentiments.
Cubist and post-modernist paintings include masterpieces like Motherhood Angelina and the Child (1916) and Peasants (1931).
The father of a mural art movement in Mexico, Rivera is commemorated today as a champion for social justice and one of the nation's most influential artists.
Frida Kahlo (1907 – 1954)
Despite a life of severe illness, Magdalena Carmen Frida Kahlo y Calderón produced some of Mexico's finest art.
Embracing Mexican artistic traditions, she was one of the 20th century's most acclaimed portraitists. Many of her works were self-portraits hailed for their raw honesty.
There was plenty of emotion for Khalo to channel. A child polio victim, she later barely survived a bus crash that left her needing operations throughout her life.
Fiercely patriotic and politically active, Kahlo lived a bohemian lifestyle and married another famous Mexican on our list, Diego Rivera. A turbulent and polyamorous relationship that caught the nation's attention, with rumors swirling of affairs figures as diverse as Leon Trotsky and the American-French musical hall star Josephine Baker.
Renowned for her surrealist symbolism, her most celebrated works include The Two Fridas and the surrealist self-portrait that captured a lifetime of pain, The Wounded Deer.
Kahlo's star burned bright in her short life. A Mexican icon ranked among the country's most celebrated artists.
For a more rounded insight, Andrea Kettenmann's Kahlo is worth a spot on the coffee table.
Octavio Paz (1914 – 1998)
Poet and essayist Octavio Paz is the most famous Mexican writer of the 20th century.
A former Marxist who turned against communism after a friend was murdered in the Spanish Civil War, Paz drew inspiration from many sources. Alongside his evolving politics, he was influenced by surrealism, existentialism, and Eastern religions.
Piedra de Sol ("Sunstone"), a circular poem with 584 lines symbolic of the Aztec calendar, earns the most acclaim. But poetry collections like A Tree Within cemented his place as a unique voice of Mexico.
When not writing, Paz filled a lengthy career as a diplomat, which took him to France, India, and other countries that shaped his literary output.
His essays and poetry have grown in stature over the years, and his work was honored with the 1990 Nobel Prize for Literature, a first for Mexico.
Pedro Infante (1917 – 1957)
Pedro Infante was one of the Los Tres Gallos (The Three Roosters) who lit up the silver screen during Mexican cinema's golden age.
The talented actor and singer played multiple instruments and helped bring traditional ranchera music to an international audience.
A charismatic heartthrob, Infante was adored for his soulful melodies and screen presence that lit up over 60 films.
His early death in a plane he was piloting resulted in a funeral attended by over 300,000 mourners. One of those famous Mexican people whose star has never faded.
Vicente Fernandez (1940 – 2021)
Known as "El Rey de la Música Ranchera" (The King of Ranchera Music), Vicente Fernandez released 50+ albums and won numerous awards during his career.
Recognized across Mexico for his heartfelt performances, Fernandez was a champion of Mexican culture, emphasized by his love of ranchera music.
His long and prolific career saw him bag four Grammys, nine Latin Grammys, a star on the Walk of Fame, and a place among Rolling Stone's 200 best singers of all time.
To understand why, check out his moving rendition Por Tu Maldito Amor (By Your Damn Love, 1989). Or his global smash, Volver Volver (1972).
An enduring symbol of Mexican pride, Fernandez's musical talent still inspires performers today. Not least his son, Alejandro, a name on our pick of famous Mexican singers.
Carlos Slim (born 1940)
Carlos Slim Helú is the wealthiest businessman in Latin America. And once the richest in the world.
ighly successful as a stock trader, he built a sprawling conglomerate, Grupo Carso, including América Movil, Mexico's leading telecoms company.
Still ranked the 11th wealthiest person in the world, Carlos Slim's philanthropic activities have elevated him to one of the most famous Mexican people outside of sports and the arts.
Vicente Fox (born 1942)
Vicente Fox served as President of Mexico from 2000 to 2006, breaking the PRI (Institutional Revolutionary Party) party's 71-year grip on power.
A successful businessman, Fox was known for his market-oriented policies, which he claimed would boost economic growth and reduce poverty.
Notorious for his frank words and sometimes ill-judged comments, initial enthusiasm faded over his presidential term as he failed to deliver on his promises.
However, Fox has remained in the political spotlight since leaving office, promoting human rights and social justice through various initiatives and organizations.
Carlos Santana (born 1947)
Carlos Santana is a rock legend. The sublimely talented guitarist founded the internationally beloved group bearing his name, and they've sold millions of records.
Santana's unique fusion of Latin rock, jazz, and blues fusion, gained a global audience following their emblematic performance at Woodstock.
nducted into the Rock and Roll Hall of Fame, seven times Grammy winner, and rated one of the 20 greatest guitarists of all time by Rolling Stone, it is safe to say he deserves his place among the most famous Mexican musicians in history.
Thalía (born 1951)
One from our list of famous Mexican singers, Ariadna Thalía Sodi Miranda is often hailed as the "Queen of Latin Pop." Or, for soap-opera fans, the "Queen of Telenovelas."
Following a long and hugely successful career as a singer and television actress, Thalía is a household name across Latin America.
Latin Grammy nominations and other awards have underlined an influence on the Mexican pop scene that led to Billboard placing her among the 100 greatest Latin artists of all time.
Her live version of Equivocada illustrates why she is such a sensation.
Although currently focusing on other business ventures, from underwear to yoga centers, Thalía remains a Mexican superstar.
Joaquín Guzmán (born 1957)
Joaquín Guzmán, AKA El Chapo (Shorty), properly merits a place among the most infamous Mexican people.
But despite the horrors his Sinaloa cartel is responsible for, there's no denying his notoriety.
Guzmán turned the Sinaloa cartel into the most powerful cartel in Mexico, becoming one of the wealthiest criminals in history.
Perpetually hunted, El Chapo became even more famous for two daring escapes from custody. Plus, one near-arrest that infamously involved Sean Penn and Mexican actress Kate del Castillo.
Following a bloody shootout, Guzman was recaptured in 2016 and extradited to the US, where he will reside in prison until he dies. Assuming he doesn't pull off one last improbable escape.
Alfonso Cuarón (born 1961)
Despite making only a handful of movies, Mexico City native Alfonso Cuarón has built a reputation as a directing great.
His limited output includes the Mexican classic Y tu mamá también (2001), Harry Potter and the Prisoner of Azkaban (2004), and Gravity (2013). Collectively, his films have earned 11 Oscar nominations.
His most recent work is perhaps the most acclaimed. The semi-autobiographical Roma (2018) clocked a record 10 Oscar nominations and earned the first Academy Award for a Mexican film in the Best Foreign Language Film category.
Along with the next name on our list of famous Mexican people, Cuarón is one of the hottest directors working today. But we'll probably have to wait years for his next masterpiece.
Guillermo del Toro (born 1964)
Mexico's other visionary filmmaker is Guillermo del Toro, a friend of Alfonso Cuarón and another unhurried director of cinematic classics and Hollywood blockbusters.
Over his brilliant career, he has only made 12 films, yet claimed three Academy Awards, including best picture and director for Shape of Water (2018). His recent foray into animated films with 2023's Pinocchio bagged another. Most with an anti-authoritarian theme reflecting his political outlook.
Living in "involuntary exile" since the 1997 kidnapping of his father (an event several famous Mexicans can relate to), he continues to direct, produce and write novels, widely feted as one of the country's most gifted auteurs.
Salma Hayek (born 1966)
Salma Hayek (Pinault) probably needs no introduction.
The Hollywood star has appeared in numerous blockbusters. And was the first Mexican actress to earn an Academy Award nomination after portraying another name in our list of Mexican luminaries, Frida Kahlo (Frida, 2002).
Hayek's career skyrocketed after appearing opposite Antonio Banderas in the distinctly Mexican hit, Desperado (1995).
Her filmography boasts blockbusters and arthouse films alongside producer credits. And most recently, she satirized herself on Netflix's Black Mirror (Joan Is Awful, 2023), which leaned on her status as a global superstar.
Lucero (Born 1969)
Like several modern pop stars, Lucero Hogaza León was a child star of the small screen.
A musical career exploded in the back of her fame. By 1990, the artist formerly known as Lucerito has sold around 5 million records. And in 2000, released her best-selling Mi Destino.
Still releasing albums as recently as 2020 (20y20), Lucero's fame was underlined by her frequent television appearances, including regularly presenting the Latin Grammys.
Although quiet these days, Lucero is still a familiar face in Mexican popular culture.
Oscar de la Hoya (born 1973)
Oscar de la Hoya may have been born in LA and even won gold for the US at the 1992 Olympics, but in 2002 the son of a Mexican family took dual citizenship.
One of the finest pound-for-pound boxers of any generation, he has collected 11 world titles in 6 weight divisions, catapulting the famous Mexican-American to global superstardom.
A made-for-tv personality and willingness to push himself across divisions earned him the nickname "Golden Boy". A name he carried over to retirement when founding Golden Boy Promotions, combat sports promoters that keep de la Hoya at the forefront of Mexican sports.
Gael García Bernal (born 1978)
The star of Y tu mamá también (2001), Amores Perros (2000), and other internationally successful Mexican films, Golden Globe winner Gael García Bernal was named one of the greatest actors of the 21st century by the New York Times.
His most acclaimed role was playing Che Guevara in The Motorcycle Diaries.
Sadly for fans of his acting, he's more likely to be found behind the scenes running his production company, Canana Films, with his business partner and fellow famous Mexican actor, Diego Luna.
Javier Hernandez "Chicharito" (Born 1988)
Rounding off our list of famous Mexican people is soccer superstar Javier Hernandez, AKA Chicharito.
Currently playing out the twilight of his career for LA Galaxy in the MLS, Chicharito has played in the top flight of European clubs since he left Guadalajara for Manchester United in 2010.
The star striker has made over 100 appearances for Mexico, outperforming the feats of his father, Javier Hernández Gutiérrez (Chícharo), who also played for his country.
Latest posts by David Issokson
(see all)